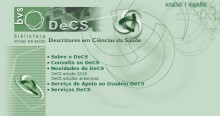 DeCS 2016 disponível para atualização no LILDBI-Web
Já está disponível para download o pacote do DeCS 2016 para atualização dos descritores utilizados no LILDBI-Web. Nesse pacote encontram-se os descritores "Zika Vírus" e "Infecções por Zika Vírus", dentre outros.
Somente os Centros Cooperantes de Rede BVS tem acesso ao pacote mediante usuário e senha e sua atualização deve ser realizada anualmente.
A solicitação do pacote DeCS deve ser realizada via formulário e estão sujeitas a validação pela BIREME:
https://goo.gl/tplb2T
Para maiores informações, acesse: http://wiki.bireme.org/pt/index.php/Atualização_do_DeCS
________________________________________
DeCS 2016 available to update LILDBI-Web's auxiliary databases
The DeCS 2016 update-package for LILDBI-Web is now, available for download. In this update are the descriptors "Zika Virus" and "Zika Vírus Infection" and others.
The access to the update-package is provided only to the institution that are part of VHL Network by a login and password.
The update of DeCS must be done once a year.
Fill the form to request the download of the package: https://goo.gl/tplb2T
For more information, access http://wiki.bireme.org/en/index.php/Updating_DeCS
________________________________________
DeCS 2016 disponible para actualización en el LILDBI-Web
El paquete de actualización del DeCS en el LILDBI-Web está disponible para download. En este paquete estan disponibles los descriptores "Virus Zika" y "Infección por Zika Virus" y otros.
Sólo las instituciones que son Centros Cooperantes de la Red BVS tienen acceso al paquete de actualización via usuario y contraseña. La actualización debe ser hecha una vez al año.
La solicitud debe ser hecha en: https://goo.gl/tplb2T
Para más información, acceder a http://wiki.bireme.org/es/index.php/Actualización_del_DeCS