Definition
LILACS Submission is a system created to manage the interoperability between Cooperating Centers (CC) and BIREME. It has as objective to strenghten and give transparency about cooperation process with LILACS. It uses an system developed by BIREME, who allows:
Electronic management of the interoperability with Cooperating Centers (CC);
Automation of the cooperating process;
Transparency, rating and optimization of the work flow.
In this stage, BIREME Submission contemplates contribution flow with LILACS through submission files in ISO 2709 format to inclusion on LILACS database.
URL Presentation LILACS Submission
New collaboration flow
Steps to start collaborating
Request the user in the system
To request access to the system, send an e-mail to

 with the subject LILACS Submission – user request and provide:
Full name of person responsible for sending the LILACS
E-mail
VHL Code of Cooperating Center
Based on the LILACS Submission implementation schedule, it is estimated that by the end of 2013, all LILACS Cooperative Centers Network adopt the system and the e-mail

 gradually is going to be disabled.
Batch preparation by Bibliographic Type
To prepare the batch of records, you should have done the description, indexing and publishing of the records in your local information source (institutional, thematic or national databases) adopting LILACS Methodology.
The batch of records should be divided in:
Journals= Journal articles described and indexed journals of not participating in the LILACS-Express;
Monographs, Thesis and Non conventionals = monographs, dissertations and papers unconventional described and indexed using the Web-LILDBI;
Indexed reviewed journals and records – LILACS Express= LILACS records indexed and reviewed journals that participate in LILACS-Express (or SciELO Editor). These records are sent by CCs for replacing members records LILACS-Express loaded automatically;
Records supplied by the editor – LILACS-Express – BIREME only= no indexing records that are unedited and LILACS-Express (Such a principle will be administered only by BIREME and viewed by those responsible for data entries in SciELO).

*The batches of records should be saved and sent with the extension .ISO.
*Do not send ISO files with only one record.
*Prefer to send batches with a significant number of records. One or more issues of journals fully described and indexed and many books, monographs, theses and unconventional documents together in one batch.
*Do not send ISO files with only one record.
Sending records with LILACS Submission
Click on menu Submissions and choose New Submission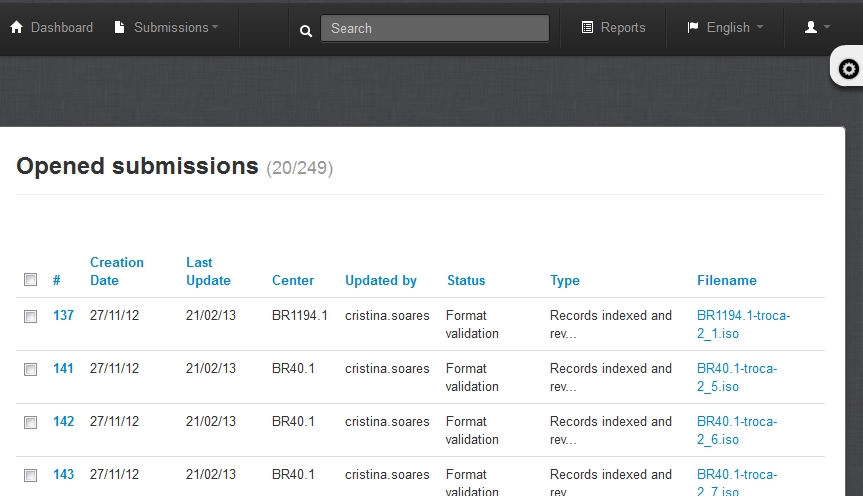 Fill and choose the options according to your .ISO file: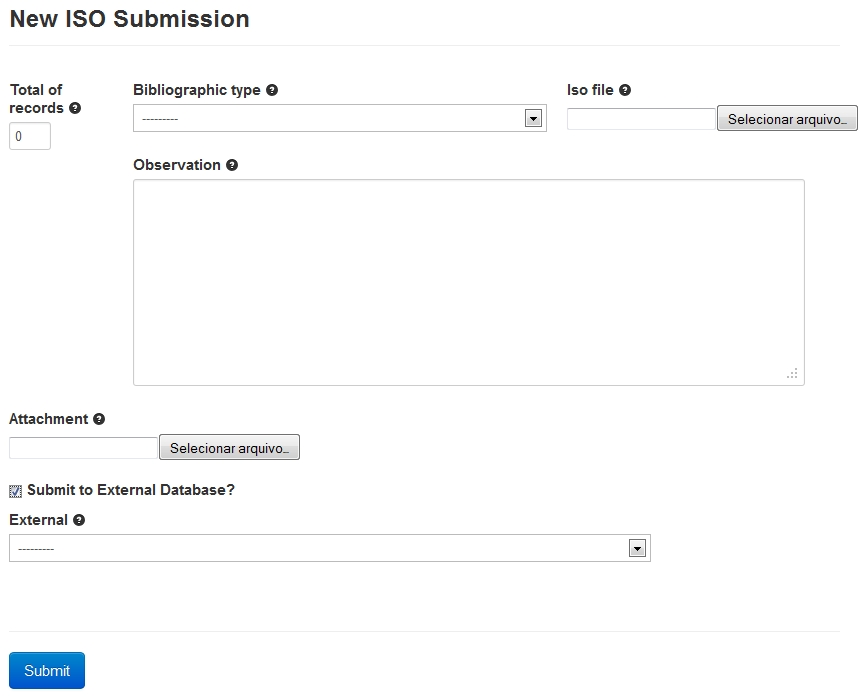 Total records: report the total amount of records in the ISO file sent;
Bibliographic type: select the bibliographic type of the records being sent (see definitions above);
Iso file: upload the ISO file to be sent to LILACS;
Observation: include information about the records sent. Example: Acta Cir. Bras, 10 (2) 2011; Acta Cir. Bras, 10 (3) 2011; Acta Cir. Bras, 10 (4) 2011;
Attachment: send the full-text documents described in the ISO file that are not available on the internet to be loaded in LILACS repository;
Submit to External Database?: Send the batch of records also to thematic or national databases;
Click on the Submit button.
Control the batches sent do LILACS and External Databases
The main menu presents the options Dashboard, Submissions, a search box, Reports, Language and User information.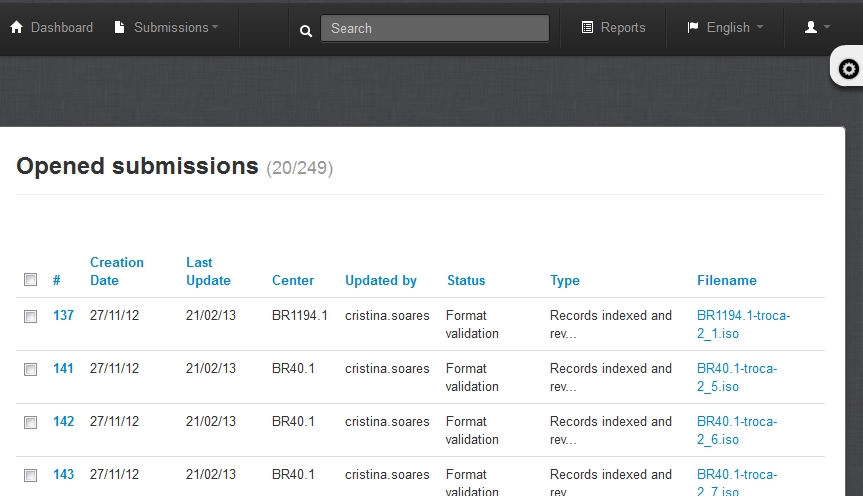 The first view presents all Opened submissions with the information:
#: Id number of the record;
Creation date: Date of submission of the the batch by CC;
Last update: Date of updating by BIREME;
Updated by: Name of the person responsible for the last update;
Status: Current status of the batch;
Type: Bibliographic type of the batch sent by CC;
File Name: Name of the file created with the VHL code number-Id number.ISO. By clicking on this link, you download the file.
To monitore the status you can see: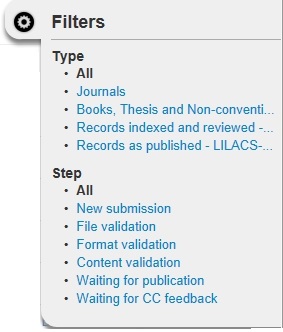 By Type

All: Restores all types of records
Journals: Retrieves only fully described and indexed records;
Books, Thesis and Non-Conventionals: Retrieves all bibliographic types, excluding Journals and LILACS Express records;
Records indexed and reviewed – LILACS Express: Retrieves only records indexed and reviewed by Cooperating Center of LILACS-Express journals;
Records as published – LILACS-Express – BIREME only: Retrieves the records as supplied by editor – LILACS-Express.
By Steps (check the steps above )

All: Restores all records in all steps of processing;
New submission: Retrieves all new submissions;
File validation: Retrieves all batches which file are not corrupted;
Format validation: Retrieves all records with the bibliographic description validated;
Content validation: Retrieves all records with document indexing validated;
Waiting for publication: Retrieves only certificated batches;
Waiting for CC feedback: Retrieves all batches that needs feedback from CC, ej. duplicated records;
Submission rejected: Retrieves all batches that could not be processed.
Submission Flow
The "Submission" flow is as follows:
| | | | |
| --- | --- | --- | --- |
| Step | Description | Actor | Sequence |
| New submission | Include file on system | Cooperation Center | 1st |
| File validation | Verify if ISO file isn´t damaged or corrupted | BIREME | 2nd |
| Format validation | Verified file | BIREME | 3rd |
| Content validation | Validate content according to LILACS Methodology | BIREME | 4th |
| Waiting for publication | Certify on LILDBI-Web of BIREME (internal) | BIREME | 5th |
| Avaliable in LILACS | Avaliable on LILACS) | BIREME | 6th |
| Waiting for CC feedback | Batches which presented problems in the 2nd, 3th and 4 th steps and are pending a feedback | BIREME and Cooperation Center | – |
| Submission Rejected | Files that could not be avaliable on LILACS (due to problems or tests) | BIREME | – |
User configuration
In Configuration, it´s possible to visualize logged user and Edit, Change password and Logout options.
Edit: In this option, it´s possible to include First Name and Last Name, change e-mail and select to receive e-mails always when submission has a status change. This option doesn´t allow to change user login.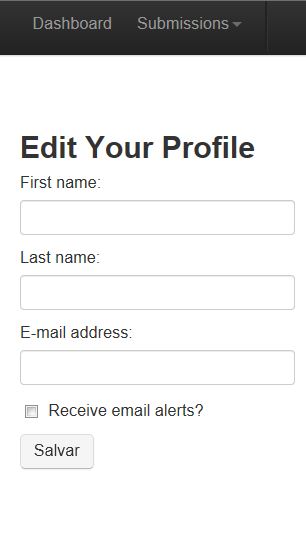 Change password:
You must enter your old password;
type new password;
and confirm;
Click on Change my password;
Select your username.

Implementation Schedule
| Activity | Date |
| --- | --- |
| System Planning | August 2012 |
| Beta version development | September 2012 |
| Internal tests | September to November 2012 |
| Presentation to National Coordinating Centers (NCC) and Coordinators of Thematic Networks | November 2012 |
| Pilot test with Cooperating Centers (CC) | November and December 2012 |
| Portuguese and Spanish Presentations to LILACS Network | March 2013 |
| Expansion to all CC from LILACS Network | January to June 2013 |
Technologies adopted
Multimedia presentation