FI-Admin is a management system for the VHL information sources.
In this system it is possible to manage: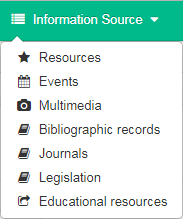 LIS - Health Information Locator (internet resources)

DirEve - Events Directory

Multimedia Resources Catalog - Videos

LILACS and other bibliographical information sources (bibliographical registries)
LILACS-Express journal - LILACS journals with or without its own internet portal.
 LEYES - Legislation
Educational resources
SeCS Standardized Short Titles (TITLE) - BIREME Internal Management.
It replaces the older LILDBI-Web, LIS, DirEve, LILACS-Express Editor management systems and SeCS TITLE base. 
Advantages of adopting FI-Admin
Creating users in FI- Admin
How do I request user creation in FI-Admin?
The creation of users and profiles in FI-Admin is managed in the BIREME Accounts system and is performed by BIREME or by bibliographic database coordinators.
To request users to BIREME, fill out the User Request form for FI-Admin - Bibliographic records.
System development information
Framework Django
Publication of records through the WordPress plug-ins
API for content searching created with Solr Lucene
Related links: